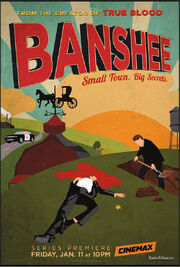 Banshee is an American drama television series produced by Cinemax. The series is set in the village of Banshee, Pennsylvania. The series was developed by show runner Alan Ball (Six Feet Under and True Blood). Ball is an executive producer for the project alongside Greg Yaitanes, Peter Macdissi, Jonathan Tropper and David Schickler. Tropper and Schickler conceived the series and are writers for the project. The series began its first season on Cinemax on January 11, 2013.
Banshee stars: Antony Starr (Rush) as Lucas Hood, an ex-con and master thief who assumes the identity of the sheriff of Banshee, where he continues his criminal activities, even as he's hunted by the shadowy gangsters he betrayed years earlier; Ivana Milicevic (Charlie's Angels, HBO's Mind of the Married Man) as Carrie Hopewell, a notorious jewel thief who now lives in Banshee under an assumed identity with her new family, who know nothing of her past; Ulrich Thomsen (The Celebration) as Procter, an intimidating, wealthy local businessman who believes he is above the law; Frankie Faison (The Good Wife, HBO's The Wire) as Sugar Bates, a wise, powerful former boxer and ex-con who now owns the local watering hole; Rus Blackwell (Burn Notice, HBO's Recount) as Gulf War hero Gordon Hopewell, Banshee's district attorney, who is married to Carrie; Ryann Shane (Blue Bloods) as Deva Hopewell, Carrie and Gordon's rebellious daughter; and Ben Cross (Star Trek, Ben Hur) as Mr. Rabbit, a ruthless Ukrainian gangster who has been hunting Lucas and Carrie, his former top thieves, for 15 years.
On July 29, 2016, it was announced that Season 4 will be the last season.
Episodes
[
]
Related articles
[
]
Trailer
[
]